Ulrich Beck - um dos maiores sociólogos contemporâneos
Nota prévia

: Parte um sociólogo de 1ª água que revolucionou o pensamento social e político contemporâneo, a forma de encarar os conceitos da sociedade de risco, da globalização, da segurança, da modernidade, da competitividade entre sociedades, das novas e velhas ameaças, enfim, da forma de fazer política à escala global. Devo muito a este pensador, por isso fica aqui uma palavra de gratidão e reconhecimento pelo muito que aprendi com os seus livros, ensaios, artigos e intervenções.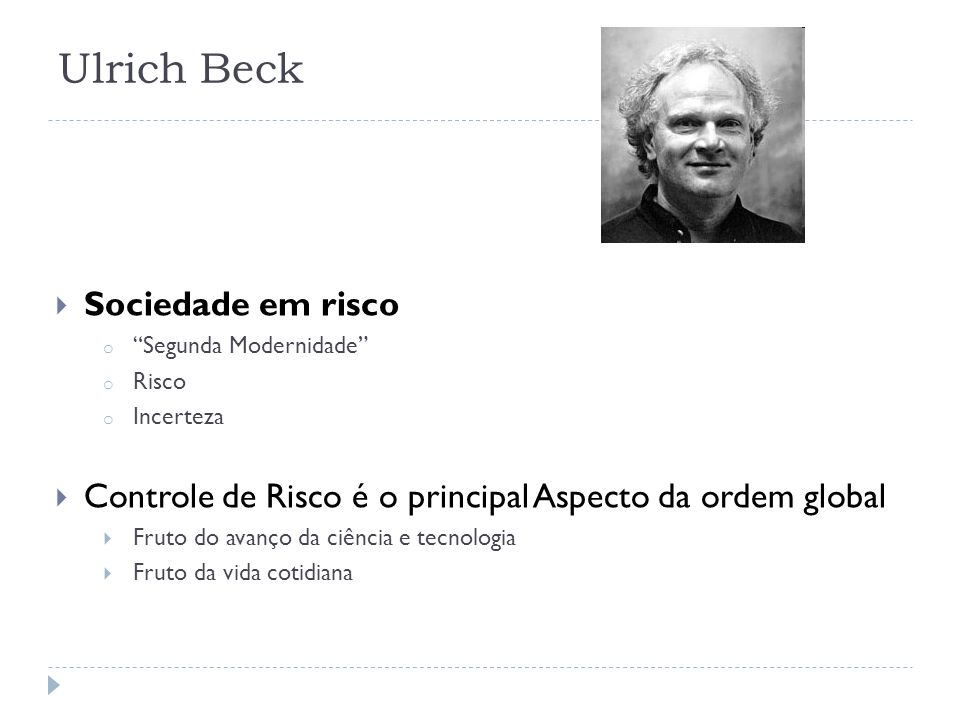 Assim, Beck interpretava a ameaça terrorista como uma consequência da modernização e a mudança climática como um resultado dos sucessos da industrialização.
O desemprego em massa, por sua vez, seria resultado do aumento da produtividade e dos progressos da medicina que levam a um aumento da esperança de vida que conduz a uma mudança da pirâmide demográfica, com o consequente desafio para os sistemas de seguridade social.
Nesse contexto, acredita no imaginário social com uma série de cenários de risco, que antecipam possíveis catástrofes de diversos tipos.
O risco, segundo Beck, não é medível, por isso que pode ser minimizado ou dramatizado, segundo os interesses de quem o descrever.
Os riscos globais escapam da capacidade de controle dos estados apesar de, segundo Beck, os governos instrumentalizarem, por exemplo, o medo ao terror criar mecanismos de observação da população
Beck foi professor das universidades de Munique, Bamberg e Münster e professor convidado em Cardiff (Gales) e na London School of Economics and Political Science. EFE
Welcome/English
His interests focus on 'risk society', 'institutionalized individualization', 'reflexive modernization', 'cosmopolitanism', 'cosmopolitization' and the 'emergence of cosmopolitan risk communities'. He was the director of the collaborative research centre (Sonderforschungsbereich 536) 'Reflexive Modernization' at the University of Munich (in cooperation with three other universities in the area), financed 1999-2009 by the German Research Foundation (DFG).
Professor Beck's teaching concentrates on modernization theory, sociology of risk, transformation of work and social inequalities. At LSE, he runs a graduate seminar on aspects of contemporary social theory for both MSc and research students. His book on World at Risk (climate change, terrorism, financial crisis) summarizes his theoretical, empirical, and political engagement in this field for many years.

His most recent research activities include a long-term empirical study of the sociological and political implications of 'reflexive modernization', which explores the complexities and uncertainties of the process of transformation from first to second modernity. Specifically he is working on a sociological framework to analyse the ambivalences and dynamics of 'cosmopolitan societies'.
Professor Beck's books have been translated into more than 35 languages. He regularly publishes essays in the major national newspapers in Europe.
Some major publications
Distant Love (2014)
German Europe (2013)
Twenty Observations on a World in Turmoil (2012)
A God of One's Own (2010)
World at Risk (2009)
Cosmopolitan Europe (with E. Grande) (2007)
The Cosmopolitan Vision (2006)
Power in the Global Age (2005)
Individualization, (with E. Beck-Gernsheim, 2002)
Brave New World of Work (2000)
World Risk Society (1999)
What is Globalization? (1999)
Democracy Without Enemies (1998)
The Reinvention of Politics (1996)
Ecological Politics in an Age of Risk (1995)
Ecological Enlightenment (1995)
The Normal Chaos of Love (with E. Beck-Gernsheim, 1995)
Reflexive Modernization (with A. Giddens and S. Lash, 1994)
Risk Society (1992)
___________
Etiquetas: Ulrich Beck - um dos maiores sociólogos contemporâneos